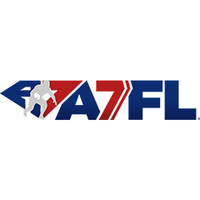 A7FL
4.7
Rating based on all videos
The American 7s Football League (A7FL) has pioneered a new format of American football: 7-on-7, full contact, with no helmets or hard shell pads.
Thrilling, intense, action-packed games.
Unique format emphasizes athleticism but retains the toughness fans crave.
Players from different walks of life put it all on the line to deliver highlight-filled performances.
Now in its 7th season, the A7FL has grown to 20 teams in 4 divisions across the country.
The league will crown the 2021 A7FL National Champion on July 18.