BKFC
KnuckleMania

Official PPV Replay
Bell Time

Duration

03:42:57

Genres

Channel

Venue

RP Funding Center, Tampa, FL, United States

Ratings


Rate This Show
* Available in United States
* Included unlimited replays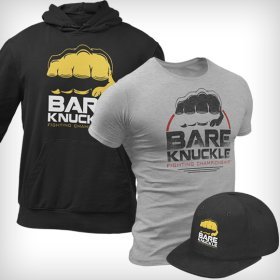 *Each winner will receive an
Official BKFC Prize Pack
which includes:
Official BKFC Cap
Official BKFC T-shirt
Official BKFC Hoodie
Enter to win one of these 3 prize packs. No purchase necessary!
Ends 11:59PM 6th February 2020 Pacific Time
Fight Card








Description
On February 5th BKFC presents KnuckleMania live on FITE straight from RP Funding Center in Florida! The event features the long waited debut of the UFC star Paige VanZant. She is signed in featherweight division and her first opponent is Britain Hart.

The co-main event is a title battle and Johnny Bedford faces off Dat Nguyen for the BKFC Lightweight Championship. Johnny Bedford is coming from MMA and he is unbeaten in bareknuckle with 5-0 score, three of the victories are with knockouts. Dat Nguyen is a world ranked professional boxer and is also undefeated in the bareknuckle. Who will be defeated for the first time? Who will be the new champion?

Expect a thrilling event, full of excitement and action! Tune in, order today and watch on FITE!

*fight card subject to change
Announcements
January 29, 2021

FREE PRELIMS START AT 8:00 P.M. ET/5:00 P.M. PT!! Lakeland, FL (January 28, 2021) -- Bare Knuckle Fighting Championship, The World's Fastest Growing Sport, has announced an outstanding undercard for "KNUCKLEMANIA" on Friday, February 5, 2021. The event taking place at the RP Funding Center in Lakeland, FL, is distributed by Multi Vision Media and broadcast live on Pay-Per-View. It can be purchased in the US, Canada, UK, Australia and most international markets through FITE and viewable via its wide array on online, mobile, OTT and SmartTV apps. To bookmark ...

Read more »
If you have questions, visit the
Help Center
where you can find answers to frequently asked questions or contact the support team.