Impact Wrestling
Bound for Glory 2020 (en Français)

Official PPV Live Stream
* Available in United States
* Rediffusions illimitées incluses jusqu'au 24 janvier 2021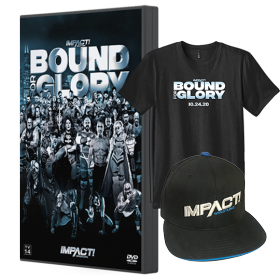 *Each winner will receive an
Official Impact Wrestling: Bound for Glory Prize Pack
which includes:
Bound for Glory 2019 - official DVD
Bound for Glory T-shirt and Cap
PLUS a FITE code for a FREE PPV event!
Ends 11:59PM 25th October 2020 Pacific Time (US & Canada)
Description
BOUND FOR GLORY 2020, le plus grand spectacle de l'Impact Wrestling de l'année sera en direct sur FITE le samedi 24 octobre depuis Nashville, Tennessee.

En tête d'affiche de la soirée, Eric Young affronte Rich Swann pour l'Impact World Championship. Est-ce que Rich Swann prendra sa revanche et réalisera son rêve de devenir Champion du Monde ou Eric Young mettra-t-il fin à sa carrière une fois pour toutes!

Les Good Brothers (Doc Gallows et Karl Anderson), les Rascalz et The North (Ethan Page et Josh Alexander) ont tous rivalisé pour une opportunité de championnat en Tag Team – et ils en auront tous une. Les Motor City Machine Guns (Alex Shelley et Chris Sabin) défendront leur titres contre les trois équipes dans un énorme match four-way à Bound For Glory. Qui sera victorieux dans ce qui est sans doute l'un des plus grands matchs de championnat en Tag Team de tous les temps?

Deonna Purrazzo a conservé son titre des Knockouts contre Susie et maintenant son prochain challenger viendra sous la forme de la candidate n° 1 Kylie Rae à Bound for Glory 2020. Purrazzo continuera-t-elle son règne de domination ou Smiley Kylie deviendra-t-elle la championne des Knockouts pour la toute première fois?

Rohit Raju défendra le titre de la X-Division contre TJP, Chris Bey, Trey Miguel, Willie Mack et Jordynne Grace dans ce qui est sûr d'être un 6-Way Scramble chaotique. Ne manquez pas ce match sensationnel!

À Bound for Glory le 24 octobre, EC3 affrontera Moose dans un lieu non divulgué. Moose est plus enragé que jamais et désespéré de mettre fin à EC3 une fois pour toutes.

Eddie Edwards a une chance de se venger lorsqu'il entre en collision avec Shamrock dans un match colossal qui est désormais officiel pour Bound For Glory.

L'unique Call Your Shot Gauntlet revient cette année chez Bound for Glory – le Gauntlet for the Gold mixte à 20 lutteurs. Deux concurrents commencent le match. Après un intervalle de temps, un autre entrera dans la mêlée. Les éliminations se produisent en jetant votre adversaire par-dessus la corde supérieure. Ce processus se poursuivra jusqu'à ce qu'il ne reste plus que deux concurrents. Les deux derniers s'affronteront dans un match en simple à gagner par tombé ou soumission. Celui qui remporte la victoire reçoit un match de championnat quand il veut, où il veut et pour le titre de son choix.

Regardez l'Impact Wrestling Bound for Glory 2020 ici sur FITE!

* la gamme est sujette à changement
Announcements
October 14, 2020

"Glory is like a circle in the water, which never ceaseth to enlarge itself, till by broad spreading, it disperses to naught." ― Willam Shakespeare On Saturday October 24th, Impact Wrestling returns to FITE not just for Impact+ subscribers but for the FITE viewers the world over as they present the 2020 edition of Bound for Glory, a night where every major Impact Championship is on the line and some of the biggest personal issues of the year look to be settled once and for all. With so many fresh ...

Read more »
October 9, 2020

Héctor "Moody Jack" Meléndez & Konnan Provide Spanish Coverage, Marc Blondin & Sylvain Grenier Announce in French and Christian Bruns & Marcus Holzer Hit the Headsets for German Language Viewers Los Angeles – (October 8, 2020) – IMPACT Wrestling announced today the live broadcast of the promotion's biggest event of the year, Bound For Glory©, will feature commentary feeds in French, German and Spanish in addition to the English broadcast. Bound For Glory© is available to fans across the world via FITE.TV on Saturday, October 24 at 8 p.m. ET/5 ...

Read more »
If you have questions, visit the
Help Center
where you can find answers to frequently asked questions or contact the support team.