Tribute to the Kings
Julio Cesar Chavez Jr. vs Anderson Silva (en Español)

Official PPV Replay
Bell Time

Duration

04:44:23

Genres

Channel

Venue

Jalisco Stadium, Guadalajara, Mexico

Ratings
* Available in United States
* Included unlimited replays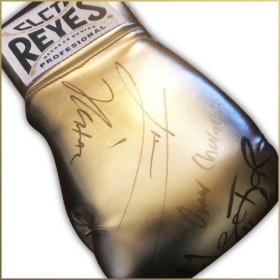 *3 people will each win 1 autographed glove from the Tribute to the Kings PPV Event. No purchase necessary!
Each Glove is autographed by:
Anderson Silva, Julio Cesar Chavez Sr., Julio Cesar Chavez Jr., Omar Chavez + Ramon Alvarez
Ends 11:59PM June 19th 2021 Pacific Time
Fight Card
| Julio Cesar Chavez Sr | 5 | Hector Camacho Jr |
| --- | --- | --- |


| Omar Chavez | 3 | Ramon Alvarez |
| --- | --- | --- |

| Kevin Torres | 2 | Jorge Luis Melendez |
| --- | --- | --- |

Description
Legado. Orgullo. Honor.

¡Es Тributo a los Reyes!

Tribute to the Kings es una noche especial en honor a la primera familia del boxeo mexicano: Julio Cesar Chavez Sr., Julio Cesar Chavez Jr. y Omar Chavez. Tres de ellos participarán en combates de boxeo.

Julio Cesar Chavez Sr hará su última aparición contra Héctor Camacho Jr. en una pelea de exhibición especial. Este partido de exhibición rendirá homenaje al legado del difunto padre del Salón de la Fama de Camacho.

El 19 de junio, el mejor peleador de MMA de todos los tiempos y leyenda de UFC Anderson Silva se enfrenta al ex campeón mundial de peso mediano del WBC e hijo del gran Julio Cesar Chávez de todos los tiempos: es Julio Cesar Chávez, Jr. Ambos grandes peleadores se enfrentan en una combate de boxeo en el evento Тributo a los Reyes, que se llevará a cabo en el Estadio Jalisco en Guadalajara, México.

El título vacante de la Organización Mundial de Boxeo NABO Super Welter estará en juego cuando Damian Sosa se enfrente a Abel Mina. El ganador de la pelea se convertirá en el nuevo Campeón Súper Welter de la WBO NABO.

* cartelera sujeta a cambios
If you have questions, visit the
Help Center
where you can find answers to frequently asked questions or contact the support team.