Third Coast Grappling 7
8 Man Tournament Middleweights

Official Replay
Bell Time

Duration

04:00:07

Channel

Venue

White Oak Music Hall, Houston, TX, United States

Ratings


Rate This Show
* Available in the United States
* Included unlimited replays
8 Man Tournament Bracket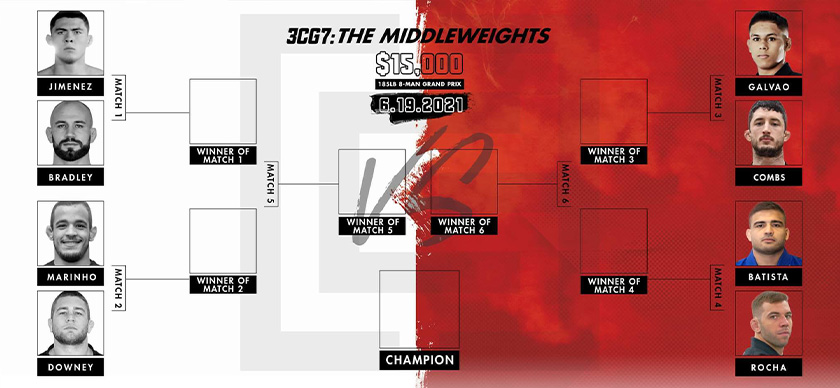 Fight Card
| Mica Galvao | 13 | Pedro Rocha |
| --- | --- | --- |


| Jordan Holy | 11 | Adam Benayoun |
| --- | --- | --- |

| Kevin Sandoz | 10 | Niles Peebles |
| --- | --- | --- |

| Lynette Villanueva | 9 | Mary Barron |
| --- | --- | --- |


| Marko Vasquez | 7 | Refugio Salgado |
| --- | --- | --- |

| Gustavo Batista | 6 | Pedro Rocha |
| --- | --- | --- |



| Roberto Jimenez | 3 | Adam Bradley |
| --- | --- | --- |

| Tayler Resuriz | 2 | Lauren Sears |
| --- | --- | --- |

| JT Little | 1 | Victor Seabra |
| --- | --- | --- |
Description
On June 19th Third Coast Grappling 7 is live on FITE!

The 8 Man Tournament will be in the Middleweights division. The event will see the return of 3CG such as 3rd Coast Grappling Kumite winner Gustavo Batista. The tournament features fighters such as Mica Galvao, Pedro Marinho, John Combs, Roberto Jimenez, Adam Bradley, decorated wrestler Pat Downey and Pedro Rocha.

Tune in, order today and watch on FITE!
Announcements
May 31, 2021

New prize money plan fires up bracket of best grappling athletes in the world; Commentary team includes Josh Palmer, Brandon Mullins, and Sean Patrick Flannery NEW YORK, May 28, 2021 – FITE, the premiere global platform for sports and entertainment, announced Third Coast Grappling 7: The Middleweights on Pay Per View June 19, 2021 available worldwide via FITE's streaming footprint of devices on all major online, mobile, OTT and Smart TV digital devices. 3CG 7: The Middleweights will crown the promotion's Inaugural Middleweight Champion after an 8-man grand prix. The …

Read more »
If you have questions, visit the
Help Center
where you can find answers to frequently asked questions or contact the support team.