Tribute to the Kings
Julio Cesar Chavez Jr. vs Anderson Silva

Official PPV Replay
Bell Time

Duration

04:44:23

Genres

Channel

Venue

Jalisco Stadium, Guadalajara, Mexico

Ratings


Rate This Show
* Available in the United States
* Included unlimited replays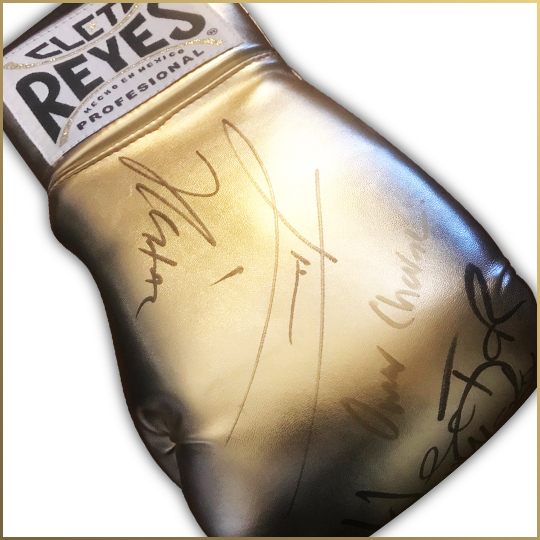 *3 people will each win 1 autographed glove from the Tribute to the Kings PPV Event. No purchase necessary!
Each Glove is autographed by:
Anderson Silva, Julio Cesar Chavez Sr., Julio Cesar Chavez Jr., Omar Chavez + Ramon Alvarez
Ends 11:59PM June 19th 2021 Pacific Time
Fight Card

| Omar Chavez | 7 | Ramon Alvarez |
| --- | --- | --- |


| Kevin Torres | 5 | Jorge Luis Melendez |
| --- | --- | --- |

| Mario Alberto Ramirez | DRAW | Pedro Castro |
| --- | --- | --- |

| Leonardo Padilla | 3 | Jesus Acosta |
| --- | --- | --- |

| Jose Vazquez | 2 | Jonathan Luis Perez Zuniga |
| --- | --- | --- |
| | | "Lagartijo" |

| Cesar Gutierrez | 1 | Oscar Mejia |
| --- | --- | --- |
| "El Torito" | | "Totti" |
Description
Legacy. Pride. Honor.

It's Tribute to the Kings!

Tribute to the Kings is a special night in honour of the first-family of Mexican boxing - Julio Cesar Chavez Sr., Julio Cesar Chavez Jr. and Omar Chavez. Three of them will take part in boxing bouts.

Julio Cesar Chavez Sr will make his final appearance against Hector Camacho Jr. in a special exhibition bout. This exhibition match will be honoring the legacy Camacho's late Hall of Fame father.

On June 19th the greatest MMA fighter of all time and UFC legend Anderson Silva faces off the former WBC Middleweight Champion of the world and son of the all-time great Julio Cesar Chavez - it's Julio Cesar Chavez, Jr. Both great fighters meet in a boxing bout at the event Tribute to the Kings, that will take place at Jalisco Stadium in Guadalajara, Mexico.

The vacant World Boxing Organisation NABO Super Welter Title will be on the line when Damian Sosa takes on Abel Mina. The winner of the fight will become the new WBO NABO Super Welter Champion.

*fight card subject to change
Announcements
June 16, 2021

LIVE ON FITE – SATURDAY, JUNE 19 TH – CLICK HERE TO ORDER NOW Headlining the Tribute to the Kings Pay-Per-View portion of the event will be MMA legend "The Spider" Anderson Silva competing in his first major boxing match vs. Julio Cesar Chavez,Jr. The co-main event will see the great Julio Cesar Chavez Sr. take the ring for the last time to fight Hector "Little Macho" Camacho Jr., the son of the man he beat in the historic boxing match "Chavez vs. Camacho in 1992. In the televised opener …

Read more »
May 5, 2021

Plus an Exhibition Match between Julio Cesar Chavez Sr. vs. Hector Camacho Jr NEW YORK (May 5, 2021) –– FITE, the premier global platform for sports and entertainment is proud to announce, on Cinco de Mayo, the Pay Per View carriage of Tribute to Kings featuring Anderson 'Spider' Silva vs. Julio Cesar Chavez Jr, along with some very notable pugilists sharing the card, on June 19 th at 9pm ET. The event will be broadcasted live from Jalisco Stadium, Guadalajara, Mexico and be available in English and Spanish with unlimited …

Read more »
If you have questions, visit the
Help Center
where you can find answers to frequently asked questions or contact the support team.