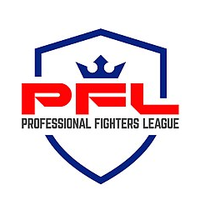 PFL
4.0
Rating based on all videos
The Professional Fighters League is one of the best MMA organizations in the world, providing fans with quality action and great events.
Known previously as WSOF, PFL have carried over everything that made them successful and developed their brand of fighting even further.
Regarded by many as one of the best MMA organizations around, PFL puts on great fights with their roster full of top-level fighters.
Their current roster includes great and known names such as Jon Fitch, Jake Shields, Yushin Okami, Colton Smith, Vinny Magalhães, Tyrone Spong and Blagoy Ivanov
PFL is also known for being the host to the commentary of the man, the myth, the legend himself - Bas Rutten!
MMA fans can enjoy a big part of PFL's library, right here on FITE. They can also stay tuned for future events as they are sure to tear the house down, with PFL's signature style of exciting fights.
PFL is one of the most interesting MMA promotions on the market today. Moving forward, fans can expect lots of action and great fights!