BKFC 19
Paige VanZant vs Rachael Ostovich

Official PPV Replay
Bell Time

Duration

03:56:04

Genres

Channel

Ratings


Rate This Show
* Available in the United States
* Included unlimited replays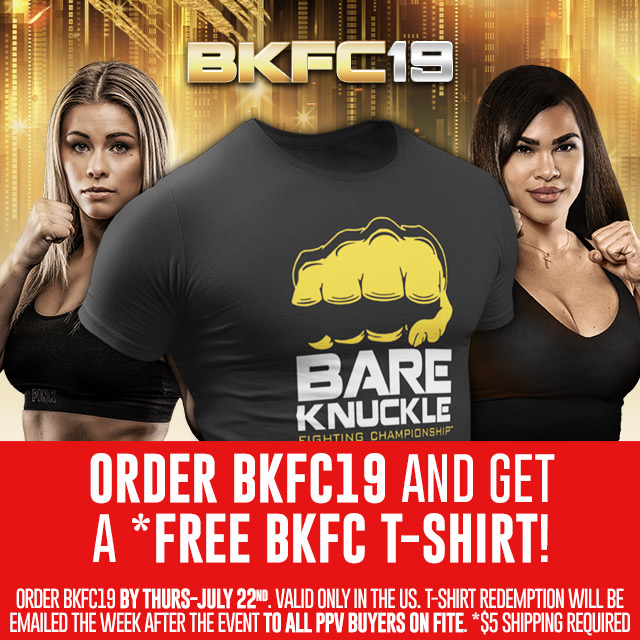 Order BKFC19 by Thurs-July 22nd and get a *FREE BKFC T-shirt!
Valid only in the US.
T-shirt redemption details will be emailed the week after the event to all PPV buyers on FITE. Official BKFC T-shirt is a $30 value---customer pays only a *$5 shipping fee.
Fight Card






| Abdiel Velazquez | 8 | Geane Herrera |
| --- | --- | --- |

| Terry Janoski | 7 | Richard Carsten |
| --- | --- | --- |

| Joshua Sikes | 6 | Sandy Antonio Soto |
| --- | --- | --- |

| Jared Warren | 5 | Zion Tomlinson Sr. |
| --- | --- | --- |

| Taylor Jenkins | 4 | Cassie Robb |
| --- | --- | --- |
Description
On July 23rd BKFC 19 is live on FITE! The event features the meeting of VanZant and Ostovich - both a MMA fighters, in the bare knuckle ring. Paige VanZant lost her first fight in the BKFC but now she is back and she is ready more than ever to win. VanZant and Ostovich met in 2019 in the ring of UFC when VanZant won over Ostovich by Armbar Submission in the second round. Who will come out on top this time?

Tune in on July 23rd and enjoy a full and intense fight card that will surely put you at the edge of your seat!

Watch BKFC 19: Paige VanZant vs Rachael Ostovich right here on FITE!

Special exhibition boxing bouts:

Blue Face vs Kane Trujillo
Nick Ireland vs DK Money
Evil Hero vs Dakota Olave

*fight card subject to change
Announcements
July 1, 2021

Friday, July 23 at the Florida State Fairgrounds in Tampa, FL and live on FITE!! Tampa, FL (June 30, 2021)--Bare Knuckle Fighting Championship, (BKFC), The World's Fastest Growing Sport, presents BKFC-19 headlined by The Rematch: Paige VanZant vs. Rachael Ostovich on Friday, July 23 at the Florida State Fairgrounds in Tampa, FL and available on the FITE platform of online, mobile, Smart TV, OTT, Game Controllers and Streaming Devices worldwide. This streaming PPV event is available globally except in the DAC region of Germany, Austria and Switzerland. Since their tremendous …

Read more »
If you have questions, visit the
Help Center
where you can find answers to frequently asked questions or contact the support team.